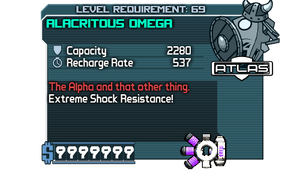 The Omega is a Pearlescent Shield manufactured by Atlas. It is notable for having a high recharge rate.
Examples are on the talk page.
Special Effects
The Alpha and that other thing. – Extreme recharge speed, high capacity & shock resistance.
Drop Guide
The Omega, as with any Pearlescent shield, has a chance to drop from Badass Engineers, Badass Defenders, and Badass Infantry. Like all Pearlescents, the Omega can also be dropped from Crawmerax and found in Crimson Lance weapon chests.
Notes
The only confirmed legitimate prefix is Alacritous.
Capacity 1004 - 2280
Recharge Rate 322 - 537
It was believed that the Omega had a chance to reduce damage taken from bullets. This is in fact false.
Trivia
The red text is reference to the Bible, Revelation 21:6 "I am the Alpha and the Omega, the Beginning and the End. I will give unto him that is athirst of the fountain of the water of life freely."
In physics, Omega is also the symbol for ohm, the unit for electric resistance.
Mechanics
The Omega's special effect comes from body4_Atlas_Omega body. It is based on the very fast recharge body4. Overall, it is a boosted version of body4, with even more recharge rate, less delay, and added capacity to boot.
body4_Atlas_Omega

body4

Capacity: +22%
Recharge Delay: -70%
Recharge Rate: +100%

Recharge Delay: -50%
Recharge Rate: +66%
Ad blocker interference detected!
Wikia is a free-to-use site that makes money from advertising. We have a modified experience for viewers using ad blockers

Wikia is not accessible if you've made further modifications. Remove the custom ad blocker rule(s) and the page will load as expected.