The Berrigan is a legendary aftermarket rocket launcher manufactured by Vladof. It is a possible reward for completing the badass round of The Holodome Onslaught.
Special Weapon Effects
Your gun is good, but mine is better! – Fires a 3 shot burst, firing 2 rockets at a time. Only uses 1 ammo per trigger pull.
Usage & Description
Notes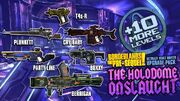 Trivia
Level artist Brad Sierzega named the Berrigan in memory of a close friend who had passed away before the completion of Borderlands: The Pre-Sequel.[1]
References