Ad blocker interference detected!
Wikia is a free-to-use site that makes money from advertising. We have a modified experience for viewers using ad blockers

Wikia is not accessible if you've made further modifications. Remove the custom ad blocker rule(s) and the page will load as expected.
The Berrigan is a legendary aftermarket rocket launcher manufactured by Vladof. It is a possible reward for completing the badass round of The Holodome Onslaught.
Special Weapon Effects
Your gun is good, but mine is better! – Fires a 3 shot burst, firing 2 rockets at a time. Only uses 1 ammo per trigger pull.
Usage & Description
Notes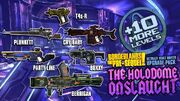 Trivia
Level artist Brad Sierzega named the Berrigan in memory of a close friend who had passed away before the completion of Borderlands: The Pre-Sequel.[1]
References