For the similarly named mission, see BFFs.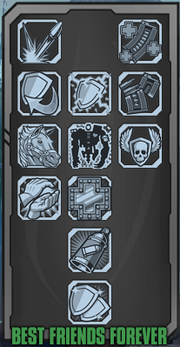 Best Friends Forever is Gaige's first skill tree, of three. The Best Friends Forever tree focuses on survival and aiming. Her other skill trees are Little Big Trouble and Ordered Chaos.
Skills
Tier 1
Tier 2
Tier 3
Tier 4
Tier 5
Tier 6
Notes
Ad blocker interference detected!
Wikia is a free-to-use site that makes money from advertising. We have a modified experience for viewers using ad blockers

Wikia is not accessible if you've made further modifications. Remove the custom ad blocker rule(s) and the page will load as expected.