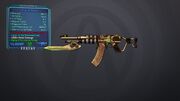 Cursed weapons and items
Curse of the Nefarious Backlash! - Every shot fired deals damage to the wielder's shield or health.
Curse of the Porcelain Fist! - the wielder takes increased damage from melee attacks.
Curse of the Elementals! - wearer takes increased damage from elemental sources.
Curse of the Cackling Designer! - spawns child grenades that seek out the thrower and detonates.
Curse of the Sudden-er Death! – reduces Fight for Your Life duration by approximately 3 seconds.
See Also
Ad blocker interference detected!
Wikia is a free-to-use site that makes money from advertising. We have a modified experience for viewers using ad blockers

Wikia is not accessible if you've made further modifications. Remove the custom ad blocker rule(s) and the page will load as expected.