Ad blocker interference detected!
Wikia is a free-to-use site that makes money from advertising. We have a modified experience for viewers using ad blockers

Wikia is not accessible if you've made further modifications. Remove the custom ad blocker rule(s) and the page will load as expected.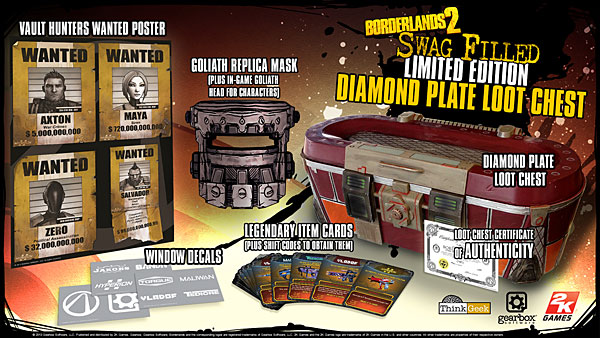 The Swag-Filled Limited Edition Diamond Plate Loot Chest was released by Gearbox in June 2013. The $99 package included a number of items, listed below.
Contents
A Hyperion Mail Service crate, delivered to the Vault Hunters from Handsome Jack, apparently containing the heads of Helena Pierce and Roland, and a bag containing the remains of Bloodwing's.
A small replica red loot chest.
A vacuum-formed replica Goliath mask
A wanted poster for each of the original four Vault Hunters
A certificate of authenticity signed by Marcus Kincaid
A collection of window stickers:

Gearbox gear logo
Vault emblem
Logos for the manufacturers Maliwan, Torgue, Tediore, Vladof, Jakobs, Hyperion, Dahl and Bandit

Four pages of Vol. 30, Issue 161 of the Pandoran Gazette, each backed with an identical Crimson Raiders poster
A complete set of "Loot Locker Trading Cards" with SHiFT codes to unlock in-game content: