Drifter Lifter is The Secret Armory of General Knoxx optional mission to kill Skyscraper, a drifter boss located in the Sunken Sea. It can be found at the T-Bone Junction Bounty Board.
Background
"Locals have seen a larger drifter out there and dubbed him Skyscraper. He's a real menace. See if you can take him down."
Walkthrough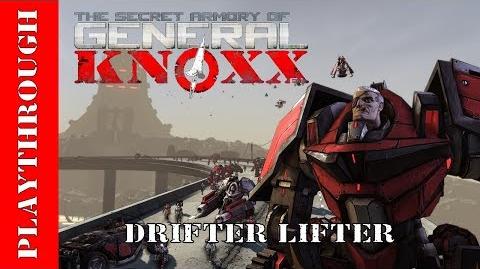 Objectives
Kill Skyscraper
Strategy
Main article: Skyscraper
Completion
"Skyscraper has been demolished!"
Notes
It is possible to kill Skyscraper before flagging this mission. If this happens players can simply exit out and restart the game to respawn him.
Ad blocker interference detected!
Wikia is a free-to-use site that makes money from advertising. We have a modified experience for viewers using ad blockers

Wikia is not accessible if you've made further modifications. Remove the custom ad blocker rule(s) and the page will load as expected.