Fink's Slaughterhouse is an area only accessible from The Fridge. It is the area in which the Bandit Slaughter missions take place, and is run by Fink.
The slaughterhouse forms a natural arena with a concrete mezzanine on one side and a central raised control station used to trigger the combats held there. Machinery in the walls can produce huge blocks of ice and pour constant streams of molten metal.
Bandits generally enter from two gates at far ends of the wall bordering the mezzanine or from the blocks of ice deposited into the arena. Several airborne marauders fly in on buzzards in later rounds of the battle.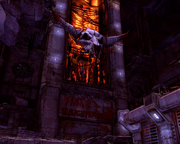 Inhabitants
Challenges
Cult of the Vault - There is a discoverable Vault symbol on the side of a pillar rising from the upper floor in the furthest corner from the arena entrance.
Ad blocker interference detected!
Wikia is a free-to-use site that makes money from advertising. We have a modified experience for viewers using ad blockers

Wikia is not accessible if you've made further modifications. Remove the custom ad blocker rule(s) and the page will load as expected.