Firepower: Plight Of The Middle Man
Talk

0
2,893pages on
this wiki
Firepower: Plight Of The Middle Man is last of three missions which are directly available from Marcus Kincaid. Once the player arrives in New Haven, they can visit Marcus Kincaid in person at his shop. Being the business man that he is, he offers the player several missions to protect his business interests.
Walkthrough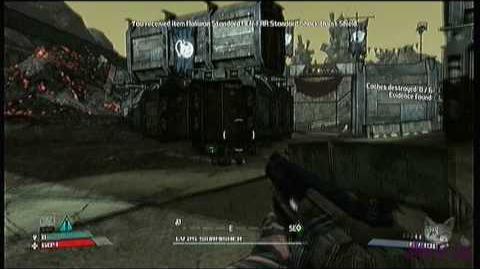 Objectives
Destroy Weapon Caches and find evidence.

Caches destroyed: 0/6
Evidence found: 0/1
"I need to know who exactly is supplying the bandits. The invoice you found was a good start, but we need more. I'm sure you can find some of the original shipping crates, and that will provide the evidence we need. While you're at it, destroy One-Eyed Jack's weapon caches. There is too much of my competitor's product out there! We'll show them what happens when they try to cut out the middle man!"
Strategy
Fast Travel to the Outeryard and grab a car and head south. That first little complex you reach is the destination. The waypoint will lead you to each cache. Get out of your car on the right half of the complex.
The first cache is next to the tent and another is against the building. Head inside the building, up the ramp, and cross the walkway to the other half. Cache #3 is on the roof as you get across. Keep along the path and into the building. On the first floor is the 4th cache. Head outside from there and you will see cache 5 on your left and cache 6 on your right next to a tent.. You will also see a flashing green dumpster on the left, which has your evidence. Return to collect more rewardage.
Added by

CushFiles

Added by

CushFiles
Completion
"So, it was Torgue who was delivering weapons to Pandora behind my back! I'll be sure to give them a stern talking-to about their business practices. As for the bandits, hopefully they know to buy from me from now on. Thank you, my friend! It's been a pleasure doing business with you!"
Notes
On coming back to hand in missions for Marcus Kincaid, check for the temporary availability of a new, (third and working) gun vending machine opposite the two by his shop entrance.
Nearby Missions