Flame Knuckle is a Lost Legion boss in Borderlands: The Pre-Sequel.
Involvement
Flame Knuckle is encountered during the Lost Legion's hostile takeover of the Helios space station, attempting to stop Jack and his Vault Hunters from escaping alive. At first, he is fought in a Dahl powersuit, and when his suit is destroyed he continues the battle on foot.
Strategy
Main article: Lost Legion Invasion
Notes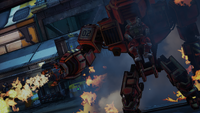 Flame Knuckle has an increased chance to drop the Nukem.
Killing Flame Knuckle contributes towards the No Suit for You! challenge in the Enemies challenge list.
Flame Knuckle has a chance to spawn in The Holodome during one of the Digistructed Madness rounds.
Ad blocker interference detected!
Wikia is a free-to-use site that makes money from advertising. We have a modified experience for viewers using ad blockers

Wikia is not accessible if you've made further modifications. Remove the custom ad blocker rule(s) and the page will load as expected.