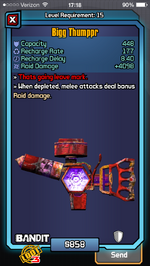 New Roid Shield first introduced by TheNexes.
Flavor text: Thats going leave mark. - Posesses a large amount of roid damage with a very slow recharge delay.
This item counts as an "Unused" item,cause if a person gets it and they send to their inventory then it will not appear and its lost.

Not much is known about this shield as of yet.
More to come.
Ad blocker interference detected!
Wikia is a free-to-use site that makes money from advertising. We have a modified experience for viewers using ad blockers

Wikia is not accessible if you've made further modifications. Remove the custom ad blocker rule(s) and the page will load as expected.