Trading weps for any weps!
2,893pages on
this wiki
Forum page
Hello I'am trade these weapons
for
NON-MODDED
Pearlescent
Fearsome Bessie with 1500+ Dmg
Cobalt Tsunami with 10+ Fire rate and 200+ Damage
Nice Specter mod, Eridian Warrior
—Preceding unsigned comment added by Wazier (talk • contribs)
Cool guns. All are legit upon quick inspection. I'm on PC, but I don't have legitimately found versions of the guns you're looking for. I'm already tired of farming, and I just make my guns when I need them (legit ones of course). Doesn't look like too many PC players around here. If you want, I can make those for you. ;) (only legit versions of course) Logisim 04:42, August 17, 2011 (UTC)
I'am looking for Just these weps, and mods. Few gun already sold. If u want any weps, search on steam for my steam community name "wAZIER" (No this is not my account name), and I accept. Wazier
No I don't need any weapons; I just make them when I'm dying to have one... :P If you want these, add me on gamespy -- same as my user name. I don't use the steam friend thingy.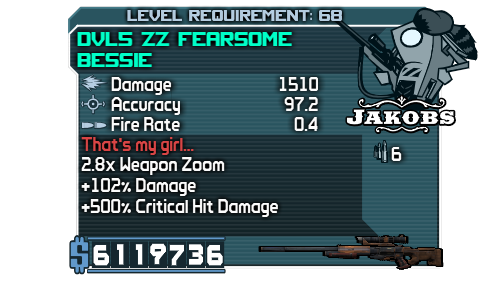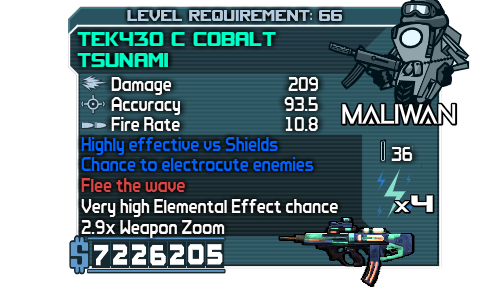 The COMs were legitimately found, and the Spectre has sniper ammo regen on the 5th line. The guns were constructed to meet your criteria. The bessie is close to the best you can get, and the tsuanmi is a middling. Logisim 20:05, August 18, 2011 (UTC)
Sorry for I not wrote, but I was not at home for 1.5 week :D. I added you to gamespy. Wazier
No prob. I accepted your friend request, but it didn't add you to my friend list... ??? Logisim 02:44, September 1, 2011 (UTC)