Get Some Answers
Talk

0
2,904pages on
this wiki
Find Tannis, wherever she may be.
Walkthrough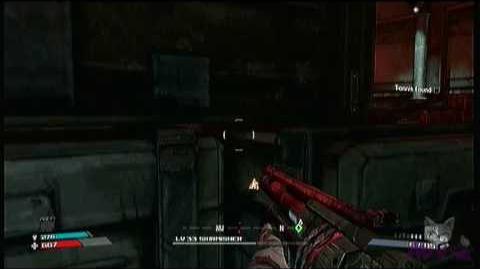 Objectives
"Tannis has betrayed you. Who knows what motivates that babbling bitch, but it's a sure bet she's fled her dig site. It's time to take back your Vault key and get some answers. First, you'll need to figure out where she's hiding."
Get Some Answers is obtained by accessing a white chest that rises up through the deck of Thor after Baron Flynt is killed. From the Salt Flats follow the compass waypoint to The Backdoor at Thor Cave.
The Backdoor is a winding tunnel network inhabited by numerous spiderants. These will ambush at various stages along the length of the cave system. A save point and weapons cache is located towards the end of the tunnel and two more red chests and an ammo vendor mark the last sales and resupply point before a final boss fight. (Although, it is actually possible to grenade jump back up.)
The final encounter in the Backdoor is accessed by dropping down into a cramped cage enclosure and accessing a data recorder found there. This will cause the cage to lift away revealing a storage warehouse littered with a number of wooden crates. Shortly after entering this chamber Master McCloud and two of the Lance Royal Guard will attack. Dispatch these foes and proceed into the Crimson Fastness
The Crimson Fastness is populated by a high concentration of Crimson Lance units of various types and also occasional Gatling Turrets. Battle through these to reach Patricia Tannis, who will be found incarcerated in a prison cell in the south-west corner of the stronghold.
Completion
"I see you either received my message or came here on some other errand. The Lance locked me in here and shut down the ECHO, but they left my communicator with me. That was really stupid of them. You probably hate me, but I didn't intend to betray you. Steele wanted the key and wanted you gone. Sending you after Baron Flynt was her idea, and it seemed like something you'd enjoy, so I went along with it. Now I'm trapped here and she's taken the Vault Key."