Golden Chest
Talk

5
3,301pages on
this wiki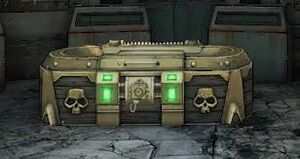 The
Golden Chest
is a unique
lootable object
located in
Sanctuary
and is opened by using a
Golden Key
. When the chest is opened it will spawn
purple
weapons
,
class mods
and
grenades
.
E-tech
weapons as well as
blue
and
purple
relics
can also spawn in the chest. After all of the items are collected, the chest will close. A player with more Golden Keys available can open the chest again for more loot.
Notes
If the chest is opened, but the game is exited without being saved before the loot is collected, the key will not be restored.
Golden Chest loot will almost always spawn the same level items as the character used to open the chest, however, some playthroughs have a level minimum.

True Vault Hunter Mode will have a loot minimum of 30.
Ultimate Vault Hunter Mode will have a loot minimum of 50.
UVHM Overpower level playthroughs will have a loot minimum of 2 OP levels lower than the current. (OP 8 Golden Chest may give OP 6 items, OP 7 will give OP 5, etc.) Overpower levels 1, 2, and 3 have a loot minimum of OP 1.
Below level 15, no relics or class mods will spawn. [citation needed]

The chest will never spawn pearlescent or legendary gear, nor  will it spawn E-tech relics.