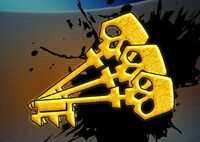 The Golden Key is an item which unlocks the Golden Chests in Sanctuary or Concordia. These chests contain weapons of purple or magenta rarity, and relics may be blue or purple. All loot is scaled to the character used to open the chest at the time. Golden Keys are single use, impossible to trade, and are not dropped as part of loot in Borderlands 2 and Borderlands: The Pre-Sequel.
Golden Key Acquisition
Borderlands 2
Pre-ordering Borderlands 2.
Buying the "Mechromancer Pack" DLC.
Borderlands: The Pre-Sequel
Pre-ordering Borderlands: The Pre-Sequel
Either Game