Grenade Mod
Talk

72
2,895pages on
this wiki
Grenade Mods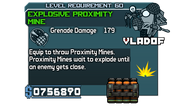 Grenade Mods (short for Grenade Modification) are useful upgrades that modify the properties of a character's Protean Grenades by increasing their damage, changing their functionality, and/or adding elemental properties. They are named by their elemental property followed by their type, such as "Explosive MIRV" or "Incendiary Rain." Each type of grenade mod is available in a range of different strengths that are roughly proportional to the level of the enemies encountered. Grenade mods are dropped by enemies, found in skag piles and chests, and can be given as mission rewards. They can also be bought as "Item of the day" at Ammo Vendors.
Grenade Mod Types
Bouncing Bettie
Manufacturer: Dahl
"Bouncing Bettie grenades pop up into the air before exploding."
Contact
Manufacturer: Tediore (explosive) and Maliwan (corrosive, incendiary, and shock)
"Contact grenades explode after touching an enemy."
Longbow
Manufacturer: Hyperion
"Longbow grenades teleport to their destination and explode."
MIRV
Manufacturer: Torgue
"When MIRV Grenades explode they throw out several more grenades."
Proximity Mine
Manufacturer: Vladof
"Proximity Mines wait to explode until an enemy gets close."
Rain
Manufacturer: Atlas
"Rain Grenades thrown themselves into the air and fire down upon unsuspecting enemies."
Rubberized
Manufacturer: Pangolin
"Rubberized grenades bounce off all surfaces and explode when they touch an enemy."
Sticky
Manufacturer: S&S Munitions
"Sticky Grenades attach to surfaces and explode after a few seconds."
Transfusion
Manufacturer: Anshin
"Transfusion Grenades steal health from enemies and heal you."
Grenade Mods by Manufacturer