Hawk Eye is a Seraph sniper rifle in Borderlands 2 manufactured by Jakobs. The Hawk Eye can only be obtained as a rare drop from Voracidous the Invincible or Omnd Omnd Ohk in Ultimate Vault Hunter Mode, or from the Seraph Vendor into Hunter's Grotto in True Vault Hunter and Normal modes.
Special Weapon Effects
Eye certain. Finger Lightning. Aim Death. – Extremely high critical hit damage, high accuracy, increased weapon zoom and severely lowered damage.
Usage & Description
Due to the Hawk Eye's extreme critical hit damage output, it makes for an effective "one shot, one kill" weapon. It should only be used in long range combat unless the user is particularly skilled with snipers in general or can slow their target down enough to get a clear shot, as it is completely unexceptional when not scoring a critical hit.
This weapon can be very effective for Zer0, as he can make use of the Sniping Tree and Decepti0n to position oneself around a target before quickly lining up the shot, without being downed by the slow speed required to aim the shot; while the Sniping tree adds extra bullet damage and critical hit damage that helps guarantee the "One Shot, One Kill" that the Hawkeye is designed to deliver. However, though it is effective for quick kills with a high stack count, it is not useful for aquiring stacks and is often not efficient enough to maintain a desireable stack count. 
Notes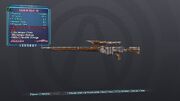 This weapon is overall inferior in damage even on a critical hit with Zer0 compared to a muckamuck, unless one is wearing the bee shield (but on higher stacks of critical ascensi0n the muckamuck will out-damage the Hawk Eye).
Initially, the Hawk Eye was bugged and would have always have "1.0x zoom". This was fixed in an unknown patch, which gave the Hawk Eye increased zoom compared to other sniper rifles.
As seen from the picture on the right, the Hawk Eye has a maximum zoom of 11.6x, the highest magnification for any sniper rifle, surpassing even the Fremington's Edge.
Triva
The name and red flavor text are references to The Deerslayer, a novel by James Fenimore Cooper. The line is: "eye sartain -finger lightning - aim, death- great warrior soon. No Deerslayer - Hawkeye -Hawkeye - Hawkeye. Shake hand."