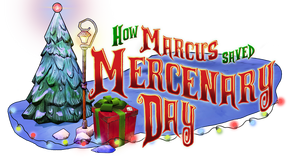 How Marcus Saved Mercenary Day is the third Headhunter pack DLC for Borderlands 2. It was released December 17, 2013.[1]
The level of Marcus' Mercenary Shop/Frost Bottom is set when first visited, but in Normal Mode is at least 15 and at most 35.
Story
In How Marcus Saved Mercenary Day, snowmen, holiday jingles and an ugly holiday sweater await in the snowy village of Gingerton all while a train full of Marcus's guns goes missing. This forces Marcus to enlist the Vault Hunters to search the town for the lost shipment - leading to a showdown against the terrifying Abominable Mister Tinder Snowflake.  -Gearbox description
Missions
Areas
Characters
Enemies
Trivia
This DLC introduces Christmas themed lootable items including small present boxes that contain money, eridium or ammo and Christmas themed weapons chests.
Videos
Sources
↑ November 19, 2013, IGN - Borderlands 2: Horrible Hunger of the Ravenous Wattle Gobbler DLC
http://www.ign.com/videos/2013/12/11/borderlands-2-how-marcus-saved-mercenary-day-commentary
http://www.gearboxsoftware.com/community/articles/1119/get-in-the-holiday-spirit-with-borderlands-2-s-mercenary-day
Ad blocker interference detected!
Wikia is a free-to-use site that makes money from advertising. We have a modified experience for viewers using ad blockers

Wikia is not accessible if you've made further modifications. Remove the custom ad blocker rule(s) and the page will load as expected.