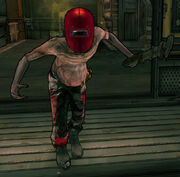 The Infected (occasionally referred to as Boils) are ex-Hyperion workers who have fallen victim to an affliction known as Space Hurps that infects the Veins of Helios. The Infected have since degenerated into a group of psychotic cannibals roaming the Veins of Helios in search of human flesh to consume. All Infected wear remnants of their old Hyperion uniforms and feature enormous boils infesting their skin.
Infected Units
Notable Infected
Notes
Ad blocker interference detected!
Wikia is a free-to-use site that makes money from advertising. We have a modified experience for viewers using ad blockers

Wikia is not accessible if you've made further modifications. Remove the custom ad blocker rule(s) and the page will load as expected.