Walkthrough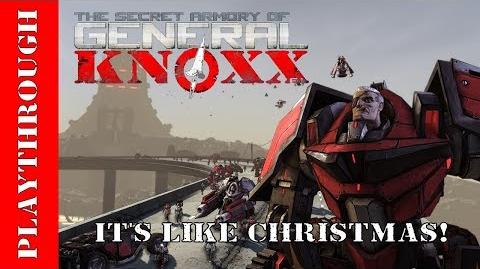 Objectives
Grab as much loot as you can!
Countdown started: 0/1
Steal loot: 0/1
Boom!: 0/1
"Marcus is allowing you to have another run through the old Lance armory. However, his rules are the same. You only have a short time before getting kicked out...by him killing you."
Strategy
Exactly the same as Loot Larceny and Super-Marcus Sweep.
Completion
"Hopefully the third time was the charm."
Notes
While the mission description and accompanying ECHO messages indicate that players should escape the armory before time runs out, the gate separating the courtyard and the outer area where the vending machines are located will be closed. The mission will always conclude with the detonation of the armory and the respawning of characters at the New-U Station. As such, players should instead focus all their time and efforts on looting the armory.
Trivia
The title is a reference to Roland, who occasionally says "It's like Christmas!" when opening a chest.
The phrase can also be found in one of the developer's comments after completing the main game.
See Also
Ad blocker interference detected!
Wikia is a free-to-use site that makes money from advertising. We have a modified experience for viewers using ad blockers

Wikia is not accessible if you've made further modifications. Remove the custom ad blocker rule(s) and the page will load as expected.