Jaynistown: Unintended Consequences' is the Borderlands story mission given by Erik Franks.
Background
"Something is fishy here. You'd better go talk to Helena Pierce. Your liberation of Jaynistown may have had unintended consequences."
Walkthrough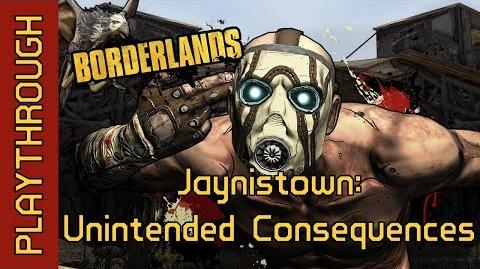 Objectives
Report to Helena Pierce In New Haven.
Strategy
Completion
"You have something to report? What have you done?"
Ad blocker interference detected!
Wikia is a free-to-use site that makes money from advertising. We have a modified experience for viewers using ad blockers

Wikia is not accessible if you've made further modifications. Remove the custom ad blocker rule(s) and the page will load as expected.