Leaving Fyrestone is a story mission in Borderlands given by Dr. Zed. This mission opens up the next area of the game, The Dahl Headlands.
Background
"Pierce agreed to bump up your clearance level. She wants you to go to New Haven and meet with her. So, drive west to the Dahl Headland gate, and speak with the Claptrap robot there. He'll let you through. When you get past the gate, talk with Ernest Whitting on the other side. He knows the Headland better than anyone, and can bring you up to speed."
Walkthrough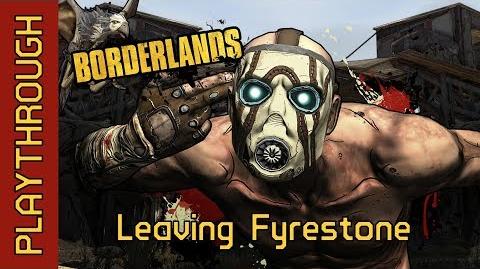 Objectives
Travel to the Dahl Headland and speak with Ernest Whitting.

Claptrap talked to
Ernest found
Strategy
Drive to the transition point and speak with the claptrap and go through. Once through to Dahl Headlands follow the path up to the top and speak with Ernest.
Completion
"You showed up just in the nick of time. The bandits have regrouped behind some character named Mad Mel. He's apparently got it in for whoever kacked Sledge. Would that be you?"
Nearby Missions
Ad blocker interference detected!
Wikia is a free-to-use site that makes money from advertising. We have a modified experience for viewers using ad blockers

Wikia is not accessible if you've made further modifications. Remove the custom ad blocker rule(s) and the page will load as expected.