Lil' Sis is a midget sand pirate in the Magnys Lighthouse area. She appears partnered with Mr. Bubbles.
Notes
If she is left alive when killing Mr. Bubbles, she will award the Vault Hunter the Little Evie.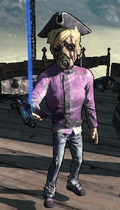 Trivia
Mr. Bubbles and Lil' Sis are references to characters in the Bioshock game series.
See Also