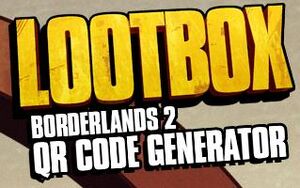 Loot the World is an out-of-game reward system using a free downloaded app for iOS and Android introduced on Dec 12, 2013. This app links mobile devices to Borderlands 2 SHiFT accounts and allows certain QR codes to be scanned for in game loot via Stamps. Up to twenty items can be stored on a mobile device until they must be deleted or sent to a SH!FT account.
Random product QR codes can generate items and these items are the same for everyone. Once an item is "found" information can then be passed to anyone for the same item although there is a limit on how many times an individual QR code can be accessed for loot before becoming "exhausted".
QR codes can also be sent from Gearbox or by unlimited generators such as LootBox2 or BL2Loot.com. Certain promotional items such as The Bee shield were introduced to bring about interest in Loot the World.
Currently the app is not available outside of the United States and there has been no word on plans to release it in other countries.
App Downloads
Ad blocker interference detected!
Wikia is a free-to-use site that makes money from advertising. We have a modified experience for viewers using ad blockers

Wikia is not accessible if you've made further modifications. Remove the custom ad blocker rule(s) and the page will load as expected.