Midgets are stunted and psychotic mutant bandits.
Overview
At some point in Pandora's recent past, a discovery was made at the Headstone Mine and hastily covered up. While it has never been fully revealed what was found there, it is known that a Vault key fragment came into the possession of Sledge, a grossly muscled behemoth of a man who later amassed a small army of bandits at Headstone Mine. The discovery at the mine had a surprising effect on many of the convict workers there. Most went crazy and many were physically mutated as well, growing into huge, muscular parodies of humanity, or stunted to dwarf proportions. The diminutive crazies came to be collectively known as "midgets".
Midgets are typically found among the ranks of the bandits that plague Pandora. They employ a wide variety of strategies and tactics from melee attacks to ballistic weapon use and even suicide bombing. Midgets also squeal and giggle in high pitched voices that can be quite unnerving to hear in the heat of a battle.
Borderlands
The Zombie Island of Dr. Ned
The Secret Armory of General Knoxx
Loot Midgets
Main article: Loot Midget
Loot midgets are a type of midget appearing in The Secret Armory of General Knoxx. They hide inside various containers and lootable objects.
Midget Bosses
Borderlands 2
| | |
| --- | --- |
| | To meet Borderlands quality standards, this article or section may require cleanup. Please help by improving, spell-checking and/or trimming the article. The following has been noted as a problem: Articles requested... and linked here |
Normal
Midget Psycho
Flaming Midget
Suicide Midget
Midget Boner - They appear alongside Smash-Head and usually ride his shoulders. They will spawn until he is killed. They also spawn in Lynchwood in UVHM.
Angry Midget - These midgets are chained to Nomads' shields. Killing them will reveal a hole in the shield, while shooting the chains will free them, and will attack friend and foe alike.
Midget Goliath
Midget Raider - Midget Nomads. They only appear in True Vault Hunter Mode or higher.
Enraged Midget - Appear in True Vault Hunter Mode
Badasses
Chubby Midget - These pudgy midgets waddle around the battlefield and hit hard. They drop a high quantity of loot when killed.
Lil' Sis - A unique midget that rarely spawns along with Mr. Bubbles at Magnys Lighthouse. If spared during the fight, and talked to afterwards, she gives the unique pistol Little Evie.
Midge-Mong - Badass Midget riding a heavy armored Bullymong in Symbiosis.
Loot Midget Marauder
Loot Midget Psycho
Loot Midget Engineer
Bosses
Notes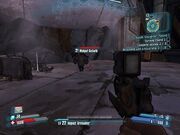 The term 'midget' was changed to 'little ___' (i.e. 'little scav') for Borderlands: the Pre-Sequel.
It is possible (although rare) for a midget psycho to jump onto a midget goliath's back and ride him as though he were a normal sized goliath.
Trivia
The standard psycho face mask bears the Vault symbol seen in many places throughout the game.
Most midgets have mohawks; upon death, their mohawk will disappear.
See Also
Gallery: Bandits
Ad blocker interference detected!
Wikia is a free-to-use site that makes money from advertising. We have a modified experience for viewers using ad blockers

Wikia is not accessible if you've made further modifications. Remove the custom ad blocker rule(s) and the page will load as expected.