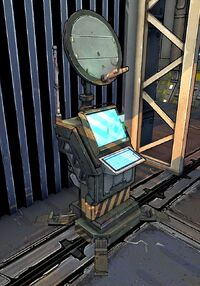 Moon Zoomies are vehicle digistruct stations on Elpis in Borderlands: The Pre-Sequel.
Overview
The Moon Zoomy system is over seen by Janey Springs, a junk marketeer who lives in Concordia. It becomes functional across Elpis after recovering a Moon Zoomy Digistruct Key from Deadlift in Regolith Range.
The Moon Zoomy is first used to leave Regolith Range, as a gap must be cleared in a vehicle to be able to get back to Serenity's Waste.
Later on, and after uploading digistruct blueprints to console at the Shimmer Island, it is possible to digistruct and use Stingrays.