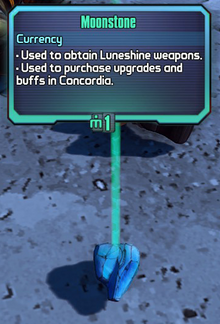 Moonstone is a valuable mineral found on Elpis that is used as a form of currency in Borderlands: The Pre-Sequel. It can be dropped from slain enemies and bosses as either a single Moonstone, or as a four-piece Moonstone Cluster.
Moonstone Uses
Notes
In comparison to Eridium, moonstone's equivalent in Borderlands 2, moonstone is dropped much more frequently, with most Badass enemies dropping at least 5 moonstones, and The Sentinel dropping on average 40-60.
Possibly moonstones have extra-elpisian origin, because aside of mob drops and chests they are found only in meteorites (the large variety) — from single piece to several clusters, and not mentioned as being mined anywhere on the moon.
It is not possible to collect Moonstones in excess of 500 per character.
See Also
Ad blocker interference detected!
Wikia is a free-to-use site that makes money from advertising. We have a modified experience for viewers using ad blockers

Wikia is not accessible if you've made further modifications. Remove the custom ad blocker rule(s) and the page will load as expected.