Ad blocker interference detected!
Wikia is a free-to-use site that makes money from advertising. We have a modified experience for viewers using ad blockers

Wikia is not accessible if you've made further modifications. Remove the custom ad blocker rule(s) and the page will load as expected.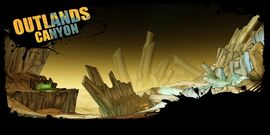 Outlands Canyon
is a location in
Borderlands: The Pre-Sequel
.
Scavs
have taken up residence in the abandoned Dahl facilities that litter the canyon, and there is also a large colony of
torks
in the area.
Points of Interest
Research Facility
The Court of Dreams
The Crater of Misplaced Enthusiasm
Bogan's Warren
Seymour's Silo
The Re-Remembered Cave
Rabid Adams' Treasure Trove
Fingersmith Halls
Inhabitants
Allies
Common Enemies
Challenges
Map
See Also
Videos