Ad blocker interference detected!
Wikia is a free-to-use site that makes money from advertising. We have a modified experience for viewers using ad blockers

Wikia is not accessible if you've made further modifications. Remove the custom ad blocker rule(s) and the page will load as expected.
Phalanx is the first of Athena's three skill trees. The Phalanx tree focuses on regenerating health and shields for the entire party. Her other two skill trees are Xiphos and Ceraunic Storm.
Skills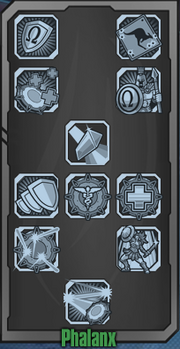 Tier 1
Tier 2
Tier 3
Tier 4
Tier 5
Tier 6
See also