Pup.Clapdogs are smaller versions of Clapdogs encountered in the Claptastic Voyage DLC from Borderlands: The Pre-Sequel. They are friendly to Insecurity forces and are rarely encountered without Insecurity support.
Subconscious Version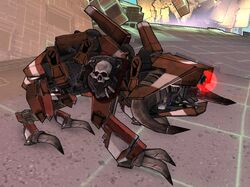 In the map Subconscious, Pup.Clapdogs are called Very Insecure Pup.Clapdogs and have a different skin. They behave exactly the same way, however.
Appearances
Strategy
Pup.Clapdogs are basically a smaller version of Guard.Clapdog, and attack using similar methods - by charging the Vault Hunters and using melee attacks, and occasionally pouncing from a distance.
Notes
See Also
Ad blocker interference detected!
Wikia is a free-to-use site that makes money from advertising. We have a modified experience for viewers using ad blockers

Wikia is not accessible if you've made further modifications. Remove the custom ad blocker rule(s) and the page will load as expected.