Scooter
Talk

34
3,283pages on
this wiki
Scooter is a mechanic with workshops in New Haven, T-Bone Junction, then Sanctuary. He is most renowned and recognized for his southern accent and stylistic speech.
Background
Scooter mentions being named after one of his sisters. His mother is revealed to be Mad Moxxi during the course of The Secret Armory of General Knoxx, and he grudgingly admits that Jimbo Hodunk is his father during Borderlands 2. He also says that he finally killed Lucky Zaford.
Involvement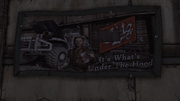 Scooter maintains the Catch-A-Rides and built the Outrunners that players can use to drive around Pandora. Once characters arrive in New Haven, he will also hand out some missions, including one to check on his old friend T.K. Baha.
He reappears in The Secret Armory of General Knoxx, where he is central to building the new vehicles of that campaign.
Scooter returns in Borderlands 2 as Sanctuary's mechanic. He assists the Crimson Raiders in maintaining the rebel city. His sister, Ellie, maintains a garage in The Dust. He also maintains the Sanctuary's flying system. Some of his missions involve helping him find a girlfriend, which usually end in his interest's death.
Missions
Borderlands
Arid Badlands missions
Main
New Haven missions
Side
T-Bone Junction missions
Main
Side
Borderlands 2
Appearances
Quotes
Borderlands 2
Catch-A-Ride quotes
General Knoxx DLC quotes
Trivia
See Also