Borderlands - The Secret Armory of General Knoxx DLC Trailer
The Secret Armory of General Knoxx is the third in the series of downloadable content packs for Borderlands.[1] Gearbox Software first announced it on January 21st, 2010, stating that it would be "the largest DLC for Borderlands to date" and would provide "new challenges and opportunities for growth for characters from around level 34 to level 50."[2] It was released for Xbox 360 on February 23rd and for PC and PS3 on February 25th.[3]
Pricing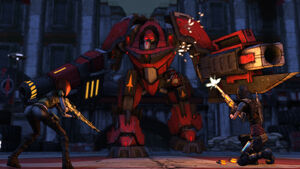 Playstation 3
$9.99 USD/£6.99
€6,99
£5.99 GBP
$11.95 AUD
52.95 DKR
70.00 SEK
Xbox 360
800 Microsoft points
$9.99
£6
PC
$9.99 USD
$12.99 USD on Steam for Australia/New Zealand
£6.30 GBP on Steam for United Kingdom
6.99 EUR on Steam
Accessing
This DLC can be accessed using the fast travel system and heading for the starting location of T-Bone Junction.
Features
This is a list of features announced by Gearbox Software:[4] [5]
Vehicles
The three new vehicles are as follows:
Lancer, an APC capable of carrying four characters, as it has a gunner seat (with a two-stage laser), a minelayer seat, a driver seat, and a blast seat.
Racer, the fastest vehicle with a single rocket launcher (similar to the one on the original runners) and a spoiler.
Characters
The Secret Armory introduces some new non-player characters (NPCs), and brings back several previous characters.
Enemies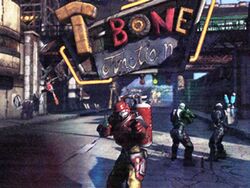 The Secret Armory introduces new enemies including:
Bosses
@GeneralKnoXX on Twitter
Gearbox Software created a Twitter account for General Knoxx to post previews of the game. Here are the images that were posted by @GeneralKnoXX:
Areas
The new areas are all located in the Parched Fathoms, a dried up lakebed home to T-Bone Junction as well as other areas.
T-Bone Junction, a new friendly city, also the starting point of this DLC and the only map with a Fast Travel New-U station.
Two roads lead out from T-Bone Junction: one to the Crimson Tollway, one to the Ridgeway.
The Crimson Tollway - The long road controlled by the Crimson Lance, who have set up a roadblock.
The Ridgeway - A highway built through ridges of cut rock, in the opposite direction from the Crimson Tollway.

Sunken Sea - A dry area, formerly underwater, with many roads and places.
Mission Flow
Main article: The Secret Armory of General Knoxx/missions flow
Achievements
Main article: Achievements#The_Secret_Armory_of_General_Knoxx
The Xbox 360 achievement list was revealed, with the following achievements associated with The Secret Armory.[10] They are also the same for the PlayStation 3.
Map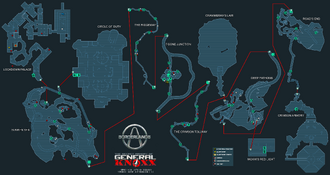 By "Mutagen" (source: gbxforums.gearboxsoftware.com)
Trivia
The title of this DLC is a reference to Fort Knox in the U.S., which is synonymous with an impregnable fortress or building.
In The Secret Armory of General Knoxx logo there is a small 61 in the lower-right corner. This represents the maximum reachable level of this DLC.
The level increase, by the unusual number of eleven levels, is a reference to the potentiometer dials of Nigel Tufnel's guitar amplifier in the mockumentary, This is Spinal Tap, apparently to give it "that extra push over the cliff".
Media
This is section of preview screenshots and videos, until they can be better integrated into their respective topics.
References
See also
External links
Ad blocker interference detected!
Wikia is a free-to-use site that makes money from advertising. We have a modified experience for viewers using ad blockers

Wikia is not accessible if you've made further modifications. Remove the custom ad blocker rule(s) and the page will load as expected.