Shock Drop Slaughter Pit is a pre-order DLC for Borderlands: The Pre-Sequel. Available to those who pre-ordered Borderlands: The Pre-Sequel, it released along with the main campaign on the 14th of October, 2014.
The Shock Drop Slaughter Pit offers a short series of challenge missions that take place in the Abandoned Training Facility. The challenge missions consist of arena-style combat pitting the Vault Hunters of Borderlands: The Pre-Sequel against successive waves of enemies.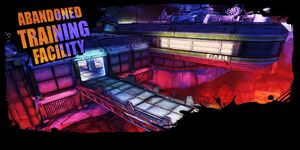 Missions
See Also
Ad blocker interference detected!
Wikia is a free-to-use site that makes money from advertising. We have a modified experience for viewers using ad blockers

Wikia is not accessible if you've made further modifications. Remove the custom ad blocker rule(s) and the page will load as expected.