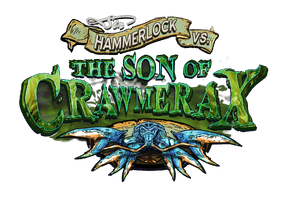 Sir Hammerlock vs. the Son of Crawmerax is the fifth and final Headhunter DLC pack for Borderlands 2. It was released on April 15th 2014.[1]
The level of Wam Bam Island is set when first visited, but in Normal Mode is at least 30 and at most 35. It is expected that the player has finished the main Borderlands 2 storyline before visiting, though that is not required.
Story
The story takes place on an abandoned island resort called Wam Bam Island. Sir Hammerlock has been kidnapped, and the Vault Hunters will need to rescue him by tracking a new type of Varkid called a Bloodhound Varkid. In the end, they'll also get a chance to fight a new raid boss: The Invincible Son of Crawmerax the Invincible.
Missions
Areas
Characters
Enemies
Giant Craboid
Craw Thumper
Sober Bloodhound Varkid
Sober Badass Bloodhound Varkid
New Skins and Heads
Main article: Quick Change#Heads and skins

Axton
Skin: Axton P.I.
Head:To The MAX
Salvador
Skin: Wet T-Shirt
Head: Crabby
Maya
Skin: Dolphins Are Badass
Head: Can O' Worms
Zero
Skin: FashiOnable Swimwear
Head: WOrmtOunge
Krieg
Skin: BEEN WORKING ON MY TAN
Head: AM I PRETTY NOW
Gaige
Skin: Hula Helian
Head: Stuck In My Craw
Videos
Sources
Ad blocker interference detected!
Wikia is a free-to-use site that makes money from advertising. We have a modified experience for viewers using ad blockers

Wikia is not accessible if you've made further modifications. Remove the custom ad blocker rule(s) and the page will load as expected.