A Skag Rider is a Midget riding a domesticated Skag. They are first encountered in the third DLC, The Secret Armory of General Knoxx.[1] There are two types shown in the trailer/news release. A Skag Rider is a Skag with one midget mounted. A Skag Rapparee is a Skag with three mounted Midgets. The Midgets employ dynamite as a thrown weapon and a type of sabre as a melee weapon. The AIs for the ridden Skag and the mounted Midget are separate; if one or the other is killed first, the second continues to melee.
Notes
If the midget rider is killed, the skag may start spitting at the player, much like a Spitter Skag.
If the skag is killed, the midget will regain some health and begin to attack the player much like a Midget Psycho. If his health is low, he will attempt to suicide bomb the player.
Because the skag and the rider are separate enemies, Mordecai's Bloodwing can attack them in rapid succession if the player has invested skill points into Bird of Prey.
Badass Skag Rider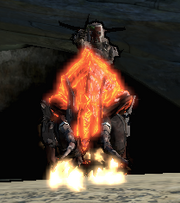 There is a Badass variant of a Skag Rider which can appear with elemental damage properties. The skag itself will vividly show the elemental effect, and the rider is a more conventional Badass Midget.
Quotes
"Can you smell him? Get him girl!"
"Run, run, run!"
"Faster! Go faster!"
Ad blocker interference detected!
Wikia is a free-to-use site that makes money from advertising. We have a modified experience for viewers using ad blockers

Wikia is not accessible if you've made further modifications. Remove the custom ad blocker rule(s) and the page will load as expected.