Sunken Sea is an area in The Secret Armory of General Knoxx, in the northernmost reaches of the explorable area. Much of the area is an expanse of dust, littered with Lance Mines. Several derelict highway roads offer safe routes to travel and there are a number of hidden areas to explore.
Inhabitants
Notable Friendlies
Notable Enemies
Weapon Crates
Main article: Sunken Sea: Weapon Crate Locations
Points of Interest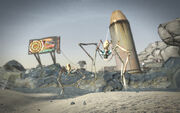 Notes
Connections
Ad blocker interference detected!
Wikia is a free-to-use site that makes money from advertising. We have a modified experience for viewers using ad blockers

Wikia is not accessible if you've made further modifications. Remove the custom ad blocker rule(s) and the page will load as expected.