Symbiosis
Talk

6
3,282pages on
this wiki
Symbiosis is an optional mission in Borderlands 2 that asks players to find and kill a midget riding a bullymong.
Walkthrough
Objectives
"Would you like to do battle with a midget riding piggyback on a bullymong? If the answer is yes, please proceed to the Southern Shelf and defeat Midge-Mong for me. If the answer is no, you are sad, and I've no desire to speak with you further."
Strategy
"Ah - what an unlikely symbiotic relationship - two deadly creatures cooperating to survive this harsh environment! Also, the midget looks like a little human backpack, and that's funny."
Midge-Mong is found in Southern Shelf - Bay at the top of the buildings along the shore. His location is marked by a $ sign as he is in a room with some vending machines. To reach the top Vault Hunters must to traverse the length of the camp and ascend a ramp found on the far side.
The duo attack when a roller door granting opens, granting access to their room on the top level. They have separate health bars and critical hit spots, and are further backed up by two Badass Marauders that come out a door nearby.
Midge-Mong jumps to a predetermined series of locations whenever he is targeted. One way to kill Midge-Mong is to position a character adjacent to the doors of the room Midge-Mong originates from. From this location the Vault Hunter can target Midge-Mong at all the locations he jumps to but he will not jump to the Vault Hunter's position. As his gunfire is rather weak compared to his charge, defeating Midge-Mong from this location is comparatively easy, and possible even if the mission is tough. Vault Hunters can also purchase health kits and ammo from nearby vending machines at this location and it will not be necessary to clear the area of bandits on the way to him if this strategy is used.
Killing the midget first will result in the bullymong throwing debris and jumping around. Killing the bullymong first will cause the dismounted midget to shoot from a static location but otherwise move in the same manner as a Shotgun Midget.
Completion
"Wonderful! That fracas was most helpful to my studies on Bullymong social structures. Return to the bounty board at your earliest convenience."
Video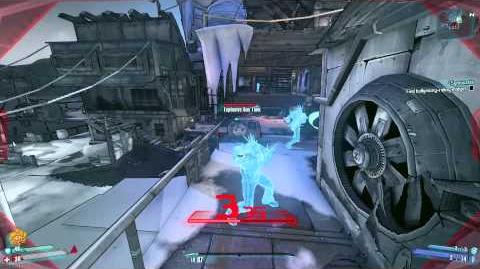 Rewards
Nearby Challenges
Notes
Phaselock will trap the both of them, but the Midget will continue attacking.
Borderlands 2 Missions
Borderlands 2
Side Missions
Arid Nexus - Badlands
Arid Nexus - Boneyard
Bloodshot Stronghold
Caustic Caverns
The Dust
Eridium Blight
The Fridge
Frostburn Canyon
Fink's Slaughter House
The Highlands
Lynchwood
Opportunity
Ore Chasm
Sanctuary Hole
Sanctuary
Sawtooth Cauldron
Southern Shelf
Southern Shelf - Bay
Terramorphous Peak
Thousand Cuts
Three Horns - Divide
Three Horns - Valley
Tundra Express
Wildlife Exploitation Preserve