Talk:Badass
2,894pages on
this wiki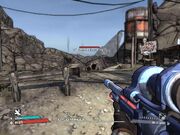 Who the hell renamed the article?
The game clearly differentiates between a badass and a boss, so I'm going to revert the change.Dr.Metrac 12:00, November 8, 2009 (UTC)
Now that I have fixed the article would an admin please rename the article Bosses.--Dr.Metrac 12:18, November 8, 2009 (UTC)
Why would yo ucall them bosses? That's just stupid. They're mini bosses and the game defines them as "badasses". Renaming this article bosses is just a stupid idea.
I wanted the article renamed because at the time of my last post the aticle was a list of bosses instead of an article about badasses.--Dr.Metrac 22:20, January 5, 2010 (UTC)
Badass vs. Boss
Edit
Calling this article badass is misleading; it's not specifically about badasses, it's about "boss nomenclature". Furthermore, I believe this article is redundant: The information contained within is already on the enemies page... TheParagon 03:24, November 17, 2009 (UTC)
In order to cement redundancy in this article, I'd say that the the enemies page needs a repair. For starters, quotes from Randy Pitchford's pre-release hype isn't going to fly now that the game is released. -- WarBlade 03:31, November 17, 2009 (UTC)

lol I agree. Goin' in for a fixer-up... TheParagon 03:33, November 17, 2009 (UTC)

Something I thought of before (and neglected to mention) about the suggestion of deleting the article. I'm in two minds about it personally. It should either be left in place and tagged as a stub for further expansion, or have anything relevant merged with the enemies page and the content here replaced by a redirect. -- WarBlade 22:19, November 23, 2009 (UTC)
«»
Superbad vs AssKicking
Edit
Strangely, I just encountered an "AssKicking Skag" (Badass Skag) in PT2.5 outside Fyrestone. This is the only time I've seen such a name so far, every other PT2.5 Badass has been a Superbad. Anyone encountered this before? --Mensahero 12:41, December 13, 2009 (UTC)
yes. my advice - run! im only just kidding. i was on a jaunt to see scar about a photo or two and ran into one of these with a high end burning skag. i assumed the threat was in the latter, i was wrong. a melee attack and a stomp later i was beating cheeks for cover. AKS's breath weapon (a bouncy tesla sphere) is a shield killer. i would say AKS is a level 51+ pain in the ass (literally as the name suggests). Dr. Clayton Forrestor 12:58, December 13, 2009 (UTC)

I too have found one in The Lost Cave, for me, it was tougher than a SuperBad Skag. Nelo Angelo 97 13:59, December 13, 2009 (UTC)
AssKicking Should be added as the next rank up from Superbad. I just came across one in skag gully after completion of playthrough two, next to a Superbad Corrosive Skag. The two combined turned my Mordecai into melting swiss cheese. —Preceding unsigned comment added by 70.116.7.228 (talk • contribs) 15:47, 15 July 2011