Tartarus Station
Talk

17
2,892pages on
this wiki
Tartarus Station is the central hub of Claptrap's New Robot Revolution from which many of the game's missions are obtained.
Inhabitants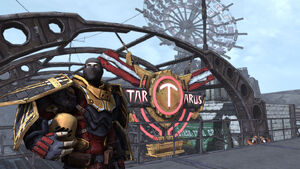 Notable Allies
Common Enemies
Weapon Crate Locations
Main article: Tartarus Station: Weapon Crate Locations
Notes
Points of Interest
The Bandit Express
The Bandit Express is a train that appears at the station proper when Operation Trap Claptrap Trap, Phase Two: Industrial Revolution is ready to be turned in. Bandit-Traps and claptraps emerge from the train in a raid on the town, while civilian NPCs disappear (with the exception of Marcus Kincaid, Mr. Blake and Patricia Tannis).
Hostel Sal
The Hostel Sal cafeteria features briefly in One-UpmanPipp.
Hyperion Corporate Gift Shop
Access to this building is granted by accepting the mission Helping is its own reward... Wait No it isn't!. The Gift Shop holds little of value, only a few lockers. However, behind the counter is a button that allows access to a passageway. This passageway leads to the Gift Shop's basement. The basement contains 18 red chests, a weapons vendor, a med vendor and an ammo vendor. The basement can be accessed repeatedly with a game reset.
Hyperion Tourist Information Board
Main article: Hyperion Tourist Information Board
Pipp Inn Spa
Pipp Inn is a tall, gray bathhouse that has fallen into disrepair. It is located south of the railway line and hosts a mission objective in Spa Vs. Spa.
Connections
Trivia
See Also