That's Impossible, Even for a Computer is a challenge that takes place in Lynchwood. In the southwestern part of the map on the side of a large building there is an exhaust pipe. Every few seconds the hatch on the pipe will open and emit a blast of fire. Around the exhaust pipe there are four light bulbs that will turn red one by one; when the last one turns red, the hatch opens.
Player must throw a grenade into the open hatch to complete the challenge. A longbow grenade makes this easy to complete—just throw it right as the fourth light turns on.
Media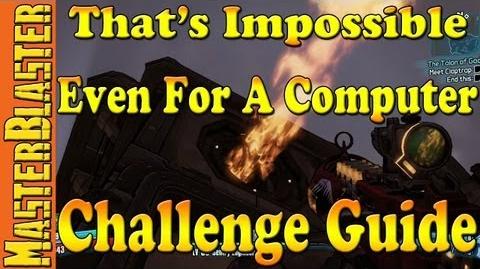 Notes
This challenge can be completed by throwing Krieg's buzzaxe into the pipe, even after the doors have closed.
Trivia
The name of this challenge paraphrases a line in Star Wars, spoken in reaction to a difficult target objective where a small warhead must be directed into a narrow opening.
Ad blocker interference detected!
Wikia is a free-to-use site that makes money from advertising. We have a modified experience for viewers using ad blockers

Wikia is not accessible if you've made further modifications. Remove the custom ad blocker rule(s) and the page will load as expected.