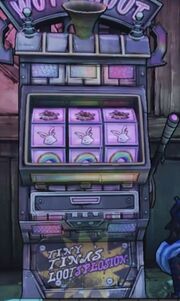 Tiny Tina's Lootsplosion Slot Machine is located in Moxxi's Grog and Girls bar in Flamerock Refuge. It costs 2 Eridium per spin, but has different results, such as a dice, which can give you a range of items (See "Roll of the Dice) and has higher chances for better loot.  
Payouts
2 Matching and 1 Fleshstick = Random white item
2 Matching and 1 Die/Rainbow = 1 Eridium 
2 Dice and one random = 1 Eridium
3 Fleshsticks = Shock explosion
3 Rainbows = Cash explosion 
3 TNT Plungers =

Blue

item
3 Teapots = Random shield (can be

Legendary

)
3 Cupcakes = Random grenade mod (can be

Legendary

)
3 Rabbit Heads =

Purple

item
3 BAR symbols = 4 Eridium
3 Vault Symbols = Legendary/Pearlescent item

3 Dice = Dice roll, results vary (see below) 
Roll of the Dice
The three dice symbols cause a d20 (20-sided die) to roll. The number the die rolls affects the outcome of  loot. 
Quotes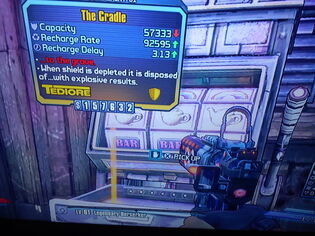 Spinning 3 Rainbows

"Make money money make money moneeey."
"MAKE IT RAAAAAAIN!"
"Eat cupcakes get moneyyy!"

Upon getting a shield

"Keep that butt protected, shawty. MM."
"Wield dat shield."

Upon getting nothing

"Saaad trombooone."
"Aw, man."
"Dat. Sucks."

Spinning 3 Dice

"Luck be a shorty tonight."
"Roll it UP!"
"Let's a' roll the dice!"

Upon getting a

White

-rarity item

"Lame."
"If it's white it ain't right."
"Boooring."

Upon getting a

Blue

-rarity item

"BLUUUE!"
"Shiny!"
"Aw yizzz."

Upon getting a

Purple

-rarity item

"PUUURPLES!"
"Full purps, son!"
"Here's some purples, cuz I love youuu."

Spinning 3 Fleshsticks

"Fleshstick?! DIE!"
"SHOCKING!"
"Oh CRAP!"

Upon getting a grenade mod

"Ooh -- blow-up rocks!"
"I see explosions in your future!"
"A nade mod for the Vault Hunter."

Upon getting Eridium

An Eridium bar

"Here ya go."
"Buy y'self somethin' pretty."
"Eh. Not bad."

An Eridium stack

"Eridiuuuum!"
"Riddy-riddy-riddy, riddy-yum!"

Upon getting a

Legendary

-rarity item
Upon getting a

Pearlescent

-rarity item

"PEEEEAAARLESCENT!"
"OHHHHH SNAAAAAAAAAP!"
"BEST DAY EVAAAAA!!!"

Upon getting

Seraph

crystals

"Ooh. Those thingies."
"Take some Seraph crystals. Just 'cause."
Ad blocker interference detected!
Wikia is a free-to-use site that makes money from advertising. We have a modified experience for viewers using ad blockers

Wikia is not accessible if you've made further modifications. Remove the custom ad blocker rule(s) and the page will load as expected.