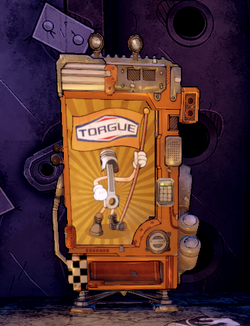 Exclusive to Mr. Torgue's Campaign of Carnage, these machines accept only Torgue Tokens and do not let the customer sell loot in exchange for tokens or cash. The items sold in these vending machines are all manufactured by Torgue.
The main draw to Torgue vending machines is that they always feature a legendary weapon of Torgue manufacture in the Item of the Day slot.
The Torgue vending machines are the only source to obtain the unique Pocket Rocket pistol.
Torgue vending machines will also stock unique Torgue heads, Torgue Explosiveness Boom challenge skins, Torgue High Octane vendor skins and non-legendary Torgue class mods from time to time.
The Torgue vending machine has some other unique features unlike Dr. Zed and Marcus's machine. When the player points their cursor at the machine, and is standing close enough, it will begin shaking, similar to a car's engine, and stops shaking when the player does the opposite. Quotes from Mr. Torgue can be heard when the player stops using the machine, but not when he/she accesses the machine, unlike the other machines.
Announcements:
"TORGUE!"
"IF YOU DON'T COME BACK, I'MA BE PISSED!"
"NOW BLOW SOME SH*T UP!"
"MOTHERF*CKIN' SEE YA'!"
"EXPLOOOSSIIOOOONNS!"
"EXPLOSION NOISE. NYEOW!"
"TESTOSTERONE(S)!"
"THANKS FOR BROWSIN' OUR WARES, YOU BADASS MOTHERF*CKER!"
"TOODLES!"
"NOW GO PUNCH SOME BAD GUYS IN THE DICK!"
Possible Items of the Day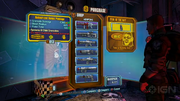 Customizations
Unique

Torgue Heads

| Axton | Gaige | Krieg | Maya | Salvador | Zer0 |
| --- | --- | --- | --- | --- | --- |
| | | | | | |
High Octane

Skins

| Axton | Gaige | Krieg | Maya | Salvador | Zer0 |
| --- | --- | --- | --- | --- | --- |
| | | | | | |
Torgue Explosiveness

Skins

| Axton | Gaige | Krieg | Maya | Salvador | Zer0 |
| --- | --- | --- | --- | --- | --- |
| | | | | | |
Locations
Notes
In the number pad area of Torgue machines, the screen will always read "80085" (trans. "boobs").
All legendary items sold in these machines costs 613 Torgue Tokens each.
The level cap on legendary items in Torgue machines used to be level 48. This was fixed temporarily on January 29th with a hot fix (a server-side patch that required an internet connection when loading the game). This issue has since been patched with the 1.4 patch released on April 2nd.
Ad blocker interference detected!
Wikia is a free-to-use site that makes money from advertising. We have a modified experience for viewers using ad blockers

Wikia is not accessible if you've made further modifications. Remove the custom ad blocker rule(s) and the page will load as expected.