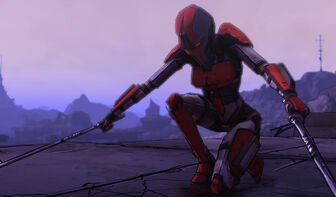 Want to know stuff about me? Fine. I'm an easy goin' guy who loves to loot almost everything and anything. I am a level 61 support gunner with +25 team ammo regen, cause nothing is more helpful then unlimited ammo! My best weapon was (I'll get to that later) my Glorious Ogre. My character glitched and deleted every item I wanted to unequippe or switch out one of my 4 gun slots and my Ogre being one of em.

Now the way I play is simple. I assist my teammates in many ways. I risk my own life (lives?) to save somebody else but only if it's completely necessary. I am a gun collector and I specialize with Combat rifles and revolvers. I pay a good price for those who bring me very impressive revolvers or unique combat rifles.
Personally I hate snipers with an undying passion, which is unless they are on my side…just a fun fact. And on a final note I always look at the damage of guns before anything else, I like powerful things.