MyWetDream/Maya Build- Prerelease Healing build
Talk

4
2,904pages on
this wiki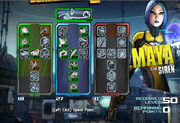 This build is subject to change, this is what I think will be the overall best healing build for a healer/support based Maya. As class mods and relic information is very limited before release date, I can not take their effects into account at this current moment in time. I am assuming that you know what each skill does and that the running order of the info is the same as the skill list.
Harmony-Bulk of skill points here
Sweet Release- 5/5
Restoration- 5/5
Elated- 5/5
Res- 1/1
Sustenance- 5/5
Life Tap- 5/5
Scorn- 1/1
With 5 life orbs floating around and each giving up to 15% health restored/orb whenever an enemy is killed whilst phaselocked, this allows for a constant flow of health restoration if timed properly between enemies deaths and cooldown.
Converting 30% of your damage to health for your team mates is an obvious skill to have as a healer/support character. Using a Vladof could allow for rapid healing or a Rocket Launcher/Torgue weapon with its AoE style damage, allowing for group healing to be possible. I am unsure if grenades will also count towards this ability but if they are, a tesla grande with its AoE damage would allow for an insane about of health regen to occur.
Regen 5% health/second whenever an enemy is phaselocked allows for 25% health regen, this is further increased to at least 35% regen when suspension is maxed.
Being able to instantly revive an ally and from a distance is an invaluable skill to have, especially if you are mobbed with a group of enemies. You keep the tank/damage dealers alive, you keep yourself alive.
Regen up to 2% of missing health/second, more health regen the better.
Kill skill- 6% health steal whenever you damage an enemy, this allows you to survive longer and most importantly last longer to heal others.
Slagging a group of enemies allows for your team mates to do more damage and you to gain more health from life tap. Doing more damage means enemies dying quicker, which increases survivability of encounters.
Motion
Ward- 5/5
Accelerate- 4/5
Suspension- 5/5
Converge- 1/1
Quicken- 3/5
A healing build would be pointless if you can't stay alive long enough to heal your allies. A massive 25% increase to shield capacity = more survivability whenever you are out on the battlefield healing your allies or picking them up. Quicker recharge delay is also nice.
Increase in weapon damage and bullet speed allows for healing to reach your allies quicker and with more potency, you do have healing bullets mind.
Increase phaselock means more health regen, less damage to players and less time for an enemy to make an impact on the battlefield. Best way to control the battlefield and damage you receive, is to remove an enemy that will cause the most problems. But remember diminishing returns will happen if you keep spamming the one character.
Decrease the cooldown of your skill to around 10 seconds. More health regen, instant res allies and increasing odds in your favour, pretty obvious why you want this.
As I said earlier you want weapons that have high damage, AoE splash damage and high fire rate for restoration to be most effective. Vladof, torgue and Jakobs are manufacturers that have at least one of these characteristics.
High damage means higher base heal.
AoE damage is for group healing. Big boom? Big area to heal.
High fire rate allows for quicker health regen and stay off/out heal the effects of DoT on allies.
Elemental damage weapons will be your personal healing weapons. The speed of each tick of DoTs will be rapid, especially with the Tesla grenade. Once you DoT up a few enemies, this will allow you to be free to heal your team mates.
Class Mod
Edit
Merciful nurse seems appropriate choice, with team health regen and increase in restoration.
I want to emphasise this build is based entirely on speculation, I do not know if it will be the best build. It should be a great base for a support healing build, even if it is just a preliminary stage. I am also unsure if crit spots (like the head) will contribute to increase in healing received.