Comments

5
Krieg Build - Stylish Garbage Phoenix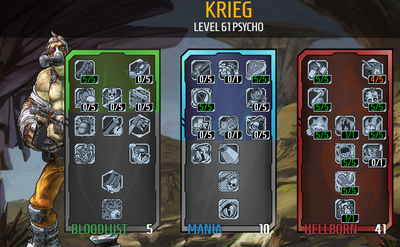 General Informations:
I tested this build in all 3 PTs and am very satisfied with the results. It focuses on using the special properties of certain pieces of equipment and amplifying them with Krieg's skills.
Skills:
"Bloodlust"-Tree:
"Mania"-Tree:
"Hellborn"-Tree:
Strategy:
While this build may seem inferior to a Melee-Krieg it is still very powerful, while reducing the risk for yourself. By managing the Elemental Status Effects you can deal with nearly any enemy. You might still have some little troubles with tougher kinds of Loaders and bigger fire-variants of enemies (like Scorch).
Recommended Equipment:
Weapons:
Shields:
Relics:
Grenade Mods:
Class Mods: