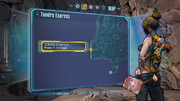 It seems a friend of mine located a Developer Chest while playing Co-Op, and this quite early in the game.
I was also able to locate a Screenshot from another player, which I will post here.
Thing is, this chest seems to contain better loot than normally, which I can confirm by seeing what my friend got out of it...
To reach the chest, you need to walk along a little cliff, which make a bit of a right-turn, leading to the chest. On that marked location, fall downbelow and turn right hand side to get to the chest
Ad blocker interference detected!
Wikia is a free-to-use site that makes money from advertising. We have a modified experience for viewers using ad blockers

Wikia is not accessible if you've made further modifications. Remove the custom ad blocker rule(s) and the page will load as expected.