Borderlands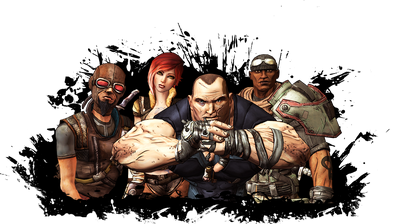 Borderlands includes four character classes, each with unique skills, abilities and back stories. As a character gains experience and levels up, their basic statistics, such as health totals and accuracy, will increase. Each class also has three unique focus skill trees to develop. There is also an accessory item type specific to each class. The four classes are:
Borderlands 2
Borderlands 2 redraws the playing field with a new set of character classes that players may select from. The original cast from Borderlands return in supporting roles.
The Borderlands 2 classes are:
Borderlands 2 has been created with the capacity to accommodate additional characters from DLCs:
Gaige - The Mechromancer, who can summon a powerful battle robot to do the wetwork for her. Best Friends Forever tree: Skills designed to enhance survivability; Little Big Trouble tree: Elemental damage focused, especially shock; Ordered Chaos tree: Skills that focuses on close range damage and restoring health and shields as you kill enemies.
Krieg - The Psycho, who can go into a bloody rage. He puts his guns away then pulls out his 2-handed Buzz Axe and gains 500% melee damage. Bloodlust tree: Skills are focused around kill skills and abilities which increase with Bloodlust stacks, such as increased damage, reload speed, and grenades. Mania tree: Focuses on melee attacks, including allowing Krieg to morph into a Mutant Badass Psycho. Hellborn tree: Focuses on fire damage and giving perks such as damage resistance to Krieg while he himself is on fire.
Borderlands: The Pre-Sequel
Borderlands: The Pre-Sequel Brings forth four new vault hunters who work for Handsome Jack and assist in his rise to power, whilst searching for a new vault on Pandora's moon, Elpis.
Character DLCs expand the character selected even further:
Jack: As the Doppelganger. An intern who was turned into a body double for Handsome Jack, he is armed with a hologram projector that lets him summon Digi-Jacks to deal with his enemies.
Aurelia: As the Baroness. The sister of Sir Hammerlock, she carries a Frost Diadem Gem that she can toss out to freeze her enemies.
Notes
Regardless of mentions about weapon preferences, all characters can use any type of weapon throughout the game without penalty. However, certain characters have abilities in their respective skill trees that can augment the use of a certain weapon type, such as Roland's Scattershot, or Zer0's At 0ne with the Gun.
The main characters (in the core series of games) are often referred to as "Vault Hunters" in the story, due to the their role in the course of events as soldiers of fortune seeking the Vault and its rumoured treasures. The title "Vault Hunter" seems to be a status symbol amongst Pandorans as an extremely dangerous and skilled individual despite it not stopping bandits from shooting at them.
In the mission Wanted: Dead!, displayed text from each character highlights their individual personality traits. Lilith's cursive script is signed off with a kiss mark and dots her "i"s with hearts, Mordecai uses a hasty scrawl, Roland prints plainly and neatly in capitals, and Brick's writing is a barely legible and childlike scribble.
Although not an official member of the team, the NPC Michael Mamaril makes mention of himself also being a Vault Hunter before giving the player a weapon.
Fiona and Rhys who appear on the Tales from the Borderlands trailer are pointed out by Marcus of not being Vault Hunters despite their intentions of performing something that normally a Vault Hunter would do.
Prior to invading the abandoned Atlas facility controlled by Bossanova, Zer0 simply shoots his way into the building with virtually no effort and kills everything in his way. When Sasha asks Fiona why they don't just go in the same way, Fiona reminds Sasha they aren't "Vault Hunters". The group then finds a (mostly) non violent way into the building.
The vault hunters from Borderlands: The Pre-Sequel are the only ones to openly converse with NPC's.
Ad blocker interference detected!
Wikia is a free-to-use site that makes money from advertising. We have a modified experience for viewers using ad blockers

Wikia is not accessible if you've made further modifications. Remove the custom ad blocker rule(s) and the page will load as expected.