A weapon's prefix is determined primarily by its accessory or elemental capacitor, if present. If the weapon lacks both an accessory and an element, its prefix may be determined by another part such as the barrel or grip.
Weapons may lack a prefix entirely. Such weapons will have no accessory, no elemental capacitor, no barrel or other part providing a special prefix, and a grip that does not itself provide a prefix.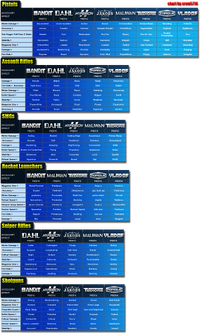 Accessory Effect
Bandit / Scav
prefix
Dahl
prefix
Jakobs
prefix
Torgue
prefix
Vladof
prefix
Damage +
Nassty / Severe
Attack
Boss
Nasty
Ferocious
Fire rate +, accuracy -
Wyld Asss / Savage
Feral
Wild
Wild
Rabid
Melee damage +
Nifed / Pointy
Breach
Razor
Stabbing
Skewering
Bullet speed +
Fast Bulets / Over-Drive
Deep
Cowboy
Slippery
Swift
Stability +
Taktikal / Stable
Patrol
Horse
Rhythmic
Resolute
Magazine size +
Expandifide / Engorg'd
Onslaught
Flush
Plump
Expansive
Accuracy +
Akurate / Dead-On
Scout
Deadshot
Rigorous
Severe
Accessory Effect
Dahl
prefix

Hyperion prefix

(Old / New)

Jakobs
prefix
Maliwan
prefix
Vladof
prefix
Melee damage +
Cartel
Conditional / Contingent
Tl'kope
Sublime
Britva
Accuracy +
Surgical
Client-Focused / Longitudinal
Siah-siah
Dandy
Zammechat
Critical damage +
Night
Enterprise / Venture
Tumtum
Gentleman's
Razrez
Stability +
Liquid
Stability / Cohesion
Chikamin
Fashionable
Dobby
Magazine size +
Operational
Capital / Resource
Hyiu
Monstrous
Bolshy
Fire rate +
Suppressive
Streamlined / Operational
Klook
Banbury
Skorry
Damage +
Pacifying
Investment / Auditing
Skookum
Barking
Gromky
Accessory Effect
Bandit / Scav
prefix
Dahl
prefix

Hyperion prefix

(Old / New)

Jakobs
prefix
Maliwan
prefix
Tediore
prefix
Torgue
prefix
Vladof
prefix
Melee damage +
Baynaneted / Pointy
Close Quarters
Multi-Purpose / Action
Bowie
Evisceration
Permasharp
Thrusting
Patriot's
Accuracy +
misles / Guid'd
Floated
Trustworthy / Earnest
Straight Shootin'
Punctilious
Dependable
Explicit
Righteous
One trigger squeeze fires two shots
Dubble / Two-Time
Twin
Compensated / Redundant
Two Fer
Binary
Two for One
Double Penetrating
Dva
Stability +
Marxmans / Dead-Eye
Tactical
Authentic / Core
Gunstock
Elegant
Clean
Stiff
Resolute
Magazine size +
Extendified / Increas'd
Loaded
Endowed / Maximized
Loaded
Surfeit
Jam Packed
Crammed
Unending
Damage +
murduerer's / Smasher's
Neutralizing
Tenacious / Win-Win
Dastardly
Potent
Super
Hard
Purging
Fire rate +
Rapider / Kwik-Smart
React
Swift / Dynamic
Trick Shot
Expeditious
Peppy
Intense
Vengeful
Accessory Effect
Bandit / Scav
Hyperion
(Old / New)
Jakobs
Tediore
Torgue
Melee damage +
Slising / Cutting
Downsizing / Restructuring
Barbed
Swiss
Bad Touch
Magazine size +
Drumed / Fair-Go
Expandable / Scalable
Sidewinder
Extra Large
Desperate
General Boost +
Redy Stedy / Mateship
Conglomerate / Social
Well Kept
New and Improved
Sinewy
Accuracy +
Sketer / Skeet
Executive / Potential
Huntin'
Original
Potent
Critical damage +
Critikal Hit / Bloody Oath
Decisive / Critical
Doc's
Royal
Juicy
Reload speed +
Quik Loadeder / Kwik-Load'd
Streamlined / Reactive
Texas
Basic
Impetuous
Pellet Count: +2
Fire Rate +
Stability +
Assssult / Battler
Enforceable / Practicable
Rustler's
Gentle
Casual
Accessory Effect
Bandit / Scav
Dahl
Hyperion
(Old / New)
Maliwan
Tediore
Melee damage +
Cuting / Slicing
Bladed
Forthright / Cutting Edge
Acuminous
Perma-Sharp
Accuracy +
Akurate / Spot-On
Deft
Considered / Analytical
Guileless
Guaranteed
Damage +
Murduring / True-Blue
Stopping
All-In / Rightsizing
Consummate
Hefty
Bullet speed +
Bulets Go Fasterifed / Kwikner
Flying
Promotional / Proactive
Impetuous
Brisk
Stability
Ballanced / Steady
Stoic
Incorporated / Corporate
Lucid
Quality
Reload speed +
Agresive / Kwik-Load'd
Skirmish
Accessible / Social
Apt
Refill
Accessory Effect
Bandit / Scav
prefix
Maliwan
prefix
Tediore
prefix
Torgue
prefix
Vladof
prefix
Magazine size +
Roket Pawket / Deep Pokket
Plentious
Bonus
Deep a
Worker's
Accuracy +
Snyper / Zero'd-In
Pertinent
Ultraprecise
gaa dunk ga
Victorious
Melee damage +
gratuitius / Knifey
Proximate
Multi-Use
pokee doke
Revolt
Reload speed +
fast actons / Clever
Prudential
Stocking
dippity
Ruthless
Fire rate +
Rappid / Kwik-Smart
Predacious
Bustling
dum pa
Turbulent
Damage +
Big / Heap'd
Puissant
Large
derp
Rugged
Projectile Speed + (less arc)
Speeedee / Rev'd Up
Punitory
Rocket Speed
Fidle Dee
Paritisan [sic]
Weapon Swap Speed +
Quik Drawler / Kwik-Change
Parataxis
Swapper's
Fwap A
Moscovite's
Laser prefixes are determined solely from the weapon's grip and element. The presence or absence of an accessory (rare, on a laser) has no effect on the weapon's prefix.
Incendiary lasers, the most common variety, take their prefix from the manufacturer of the grip part. Note that on a laser, the grip part extends horizontally from the left side of the foregrip, where it is difficult to identify in profile. The easily profiled handgrip on the rear of the weapon is part of its buttstock, which affects the weapon's recoil and handling, but not its name.
Body

Grip

Dahl
Hyperion
Maliwan
Tediore
Dahl
Flashpoint
Star
Galactic
Planetary
Hyperion
old
Scalding
Calescent
Feverous
Sizzling
new
Lensed
Hyper
Catalyzing
Heated
Maliwan
Conflagrating
Pyrophoric
Coruscating
Ebullient
Tediore
Nuclear
Thermal
Fusion
Torch
Lasers of other elements take their prefix from their element, disregarding the grip manufacturer.
Body

Element

Corrosive
Cryo
Shock
Dahl
Disintegrating
Inhibiting
Catalyzing
Hyperion
old
Acerbic
Frosted
Dazzling
new
Destabilizing
Niveous
Stimulating
Maliwan
Oxidizing
Cryogenic
Ionizing
Tediore
Alkaline
Refridgerated [sic]
Alternating
See Also